Connecting people, the past and present and networks to create a bigger world
NHN Corporation is Korea's premier Internet company, operating the nation's top search portal, Naver the leading online game portal, Hangame the nation's largest children's portal, Jr. Naver, Korea's the first online donation portal, Happybean and microblog service Me2DAY.
starting from the two business pillars of search and games, NHN has rolled out a wide range of innovative and convenient online services that enable people to enjoy their lives. A number of surveys demonstrate that the company is regarded as an undisputed leader in the online services industry worldwide. NHN has emerged as Korea's largest Internet company in terms of net profit. This outstanding growth is largely attributable to the company's efforts to create and introduce stable revenue streams in its core services; for instance, search-oriented advertising services and fee-based games.
Our key mission is to connect users with the best quality services. To that end, NHN remains fully committed to pioneering state-of-the-art technologies based on our continued R&D in technology.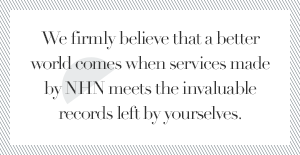 Naver Art Search
"Naver Art Search" is a digital art gallery which allows the viewers to appreciate world-widely celebrated paintings in high-resolution image. Naver Art Search provides online venue for users to easily share a meaningful cultural experience with a single click previously possible only on offline exhibition halls through handy sorting feature by painters and style along with magnifier tool. It is also continuously planning to hold more online exhibitions under interesting themes. Naver Art Search currently displays the image of 154 thousand pieces of artwork in collaboration with Réunion des musées nationaux (RMN) which includes Louvre Museum and Orsay Museum along with National museum of Korea and National Museum of contemporary Art and is slated to open more works of art cooperating with many more museums.
Naver Museum
As the first step forward in recording the trace of Korea's cultural heritage with high-quality digitizing capacity, NHN succeeded in creating Naver Museum which materialized the exhibition hall of the nation's largest National Museum of Korea onto an online platform which is a home to the most number of cultural assets and national treasures. Users are allowed to enjoy 11 thousand pieces of artwork displayed in 50 exhibition halls of National Museum of Korea as if they are navigating through every part of the corridors with a few clicks since the online display is open 24 hours all around the year unlike the actual museum. Let alone, a more in-depth appreciation of artworks has been realized with a detailed explanation of curators and high definition images of heritage. Starting from National Museum of Korea, NHN is devoted to serve as a meaningful channel to promulgate the beauty of Korean culture to the world by involving 10 more national museums – National Palace Museum of Korea, National Folklore Museum, Namjun Paik Art Center, Goseong Dinosaur Museum and so on.
Employee Volunteer Activity
NHN runs a "2,000 Won Club", where the company pays an amount that is identical to the employee's donation through the 'Matching Grant' to decide on the donation amount. "N'Gels", NHN's volunteer club also hold various volunteer activities. Proceeds from NHN's cafe and brand merchandise sales are also donated through Happybean.
Global Sharing Activities
NHN started to establish "NHN Hope Primary Schools" in 2005 to provide an opportunity for education to children in remote regions of China, including Gansusheng in the western region, Yunnan in the south west, Jilin in the north east and Sichuan in the south western region. Since 2009, with the cooperation of each region's government office, NHN built "Hangame Love Libraries" in 16 locations and filled the libraries with donated books.(as of May 2010).
Create Jobs for the Needy and Challenged
NHN strives to expand the job opportunity for disadvantaged people, thus raising the quality of their lives and embedding a sense of pride by introducing the "Silver IT Business, which provides work to the elderly, and by establishing "NSE (NHN Social Enterprise)", a subsidiary of NHN which main goal is to provide jobs to the disabled.
Hold Public Campaigns
NHN holds numerous public interest campaigns, including the "Naver Green Campaign" which teaches Internet users about the safe and proper way to use the Internet while informing them about Internet related issues and policies, and the "Beautiful Hangul" campaign, which encourages the correct use of Hangul and displays the endless potential the language has.